Maximize Your Investment with Managed IT Services Atlanta
Managed IT Services Atlanta Program
At Reach Technologies, we offer a full-service managed IT services program for businesses in Atlanta. Our program is designed to maximize your investments in information technology and printer fleets across your network and enterprise. Our team of experienced IT professionals is dedicated to providing you with unlimited support and monitoring for all your Macs, PC's, servers, wireless, VOIP phone systems, networks, and other devices. Our flexible and tailored managed services program ensures that your IT needs are met, no matter how large or small.
Network & Security Solutions
Reach Technologies offers a full suite of IT services including our Managed Services Program, Network and Security Solutions, PC's, Laptops and Servers, Implementation, IT Support, and Projects. We'll help you maximize your investments in IT resources and printer fleets across the network and enterprise. Our team of professionals can provide you with the perfect managed IT services for your business in Atlanta.
Dedicated Support Team
At Reach Technologies, we understand that customer service is the key to success. That's why we have a dedicated team of experts who are available 24/7 to provide you with the support you need. No matter your IT needs, our team is here to help. We are passionate about helping our clients succeed and will always go the extra mile to ensure your satisfaction.
Our Local Office & Technicians Serve
The Entire Metro-Atlanta Area
5017 Bristol Industrial Way
Buford, Georgia, 30518
Toll Free: 800-537-0669
Our goal is to be the complete solutions
partner for our customers.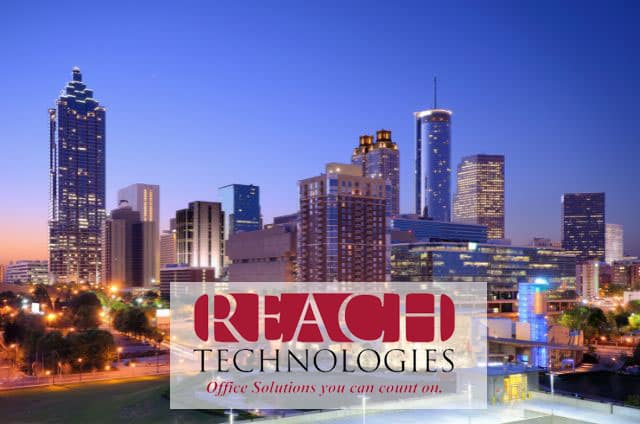 Our Managed IT Services Atlanta are built on a foundation of pillars that ensure your IT stays functional and secure.
Cyber Security
We offer protective services including AntiVirus, AntiSpam, Ransomware Resistant Data Protection, Firewall Management, and Software Patch Management.
Business Continuity – Efficient Recovery When The Worst Happens
Data Backup and Recovery, Offsite Storage in the Cloud, Multiple Recovery Points, Protect Software and Data, and Infrastructure in the Cloud.
User And IT Support – Taking Care Of Everyday IT, Support You Can Count On
Proactive and Responsive, Automated Alerts, Remote Support, Onsite when needed, Monitoring around the clock 24/7, Average ticket resolutions under 30 minutes.
Predictable Costs – Plan And Control Your IT Spend
While you focus your staff and resources on your business, we take care of your IT. As your IT advisor, we work with you to plan for the technology and services you need that aligns with the IT investment you can afford.
Contact us at 800-537-0669 or solutions@reach-technologies.com to purchase mail equipment for your business.