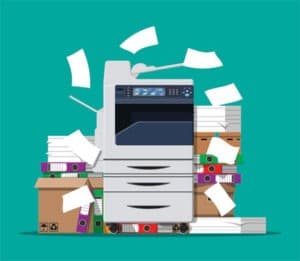 You shouldn't buy any piece of equipment for your office on impulse without doing any research beforehand. This also applies to an inserting system. Keep these five specifications in mind when deciding which system to buy as you browse mail equipment sales.
1. Speed
Carefully consider how fast you need your inserter to be. Units are rated based on how many pieces they can handle per hour. The actual speed will be about 30 percent less after taking factors such as paper reloads and application complexity.
2. Piece Requirements
This is probably the most important thing to consider when making your final decision. Here are a few factors to think about.
Whether you need a single sheet feeder or a double. A double might be necessary if you print two unrelated items that don't need to be grouped together.
Whether you need inserts, such as small advertisements or a return envelope, which tend to require a separate feeder. Some units have interchangeable feeders to give you more flexibility.
Collating. You'll want your feeder to collate documents if you have many pages from a single feeder. Improper collation could make it inconvenient and difficult for a customer to read.
3. Location and Size
You'll need to have a unit that fits in your office or workspace without being too large and cumbersome. Give yourself a few feet of clearance on each side for loading and unloading materials during use. A small unit can probably sit on a regular desk or table, but larger units might require a custom durable table to ensure it doesn't sway while in operation. Utilize a table with adjustable height and casters to make it more convenient and simpler to use.
4. Envelope Printing
It's simple and convenient to use window envelopes because they're inexpensive. This feature isn't only limited to high-end machines and is becoming more common on smaller and cheaper units. Benefits of in-line envelope printing include:
Ability to use closed face envelopes because they're not as expensive
More flexibility since the address doesn't have to match up with the window
Option to add messages or change the font type or size
5. New Features and Technology
Technology is constantly evolving, so why not take advantage and get a unit with some of these shiny perks? Some options you can get are:
Touch screen interface
Network connectivity
Web services such as routing print, data storage, or data enhancement