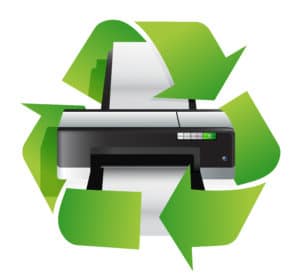 Today, a growing number of business enterprises strive to promote responsible environmental stewardship. By recycling, re-selling, or donating an obsolete copy machine or printer, many companies support greater sustainability. If you've recently upgraded your office machinery and you need to dispose of outdated printing equipment, you currently enjoy a number of options:
Contact The Manufacturer

Numerous printer and copy machine manufacturers assist customers by accepting used equipment. In some cases, these firms will agree to purchase their products back, in fact. Some leading electronics companies with disposal programs for printers include Xerox, HP, Epson, and Canon.(1) The specific requirements of different companies often vary based upon location. Customers who contemplate replacing an outdated model may find it useful to investigate this option.
Re-sell Aging Copy Machines or Printers

Sometimes businesses which maintain older business equipment in functional condition by seeking regular printer repair and service find it profitable to sell these items through office equipment auctions or consignment stores. While most buyers won't purchase models in poor condition, a working machine may find a second life in a home-based office. Due to the cost of transporting heavy models, advertising at a local level or by word-of-mouth typically provides the most significant cost savings for most businesses. (Sites such as National Auction List promote a variety of specialized auction sales around the United States.)(2)
Make a Charitable Donation

Both the Salvation Army and Goodwill accept donations of copy machines and computer printers. In many cases, donors may seek a charitable tax deduction for contributing used office equipment in working condition. Some locations offer collection services. Certain educational and religious programs also gratefully accept working printers or copiers. It usually makes sense to call the charity or institution first, to verify their need for the item.
Donate Equipment to a Repair Service

Some copier and printer repair services accept donated used equipment and re-utilize the components as spare parts. Check within your local area to find a firm interested in collecting and salvaging older models of printers.
Investigate Your State's e-Waste Program

Many states (at least 50%) currently plan formal programs to assist businesses in re-cycling electronic devices, including printers.(1) Inquiring about the availability of an e-Waste program in your area sometimes offer helpful disposal assistance at a local level!

Helpful Resources:
https://www.pcmag.com/article/362095/how-to-recycle-or-donate-your-old-printer
http://nationalauctionlist.com/auction-categories/office-equipment/