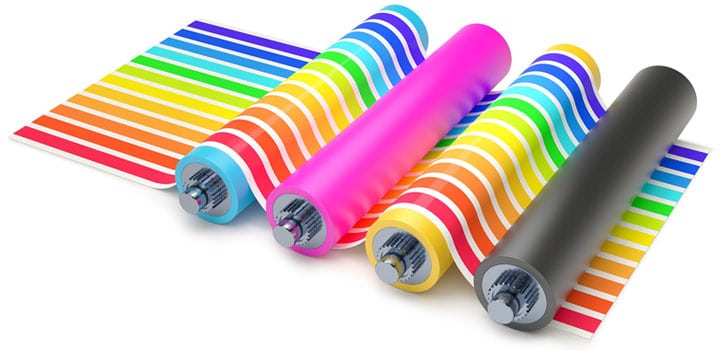 What factors contribute to vivid color printing? When business representatives attend printer and copier sales events, they sometimes search for color printing capabilities. Color printing may reduce small business operating costs by permitting companies to generate eye-catching letterheads, business cards, brochures, flyers, and other materials on an "as needed" basis. Both printing equipment and toners ultimately impact the quality of color laser printer copies.
The Pros (And Cons) of Color Printing
One reason many small businesses seek high quality color printers involves the ability to produce impressive marketing materials at will. Managers don't need to invest precious capital in purchasing printed materials in bulk from commercial printers if they posses the capability to reproduce photos, logos, and other colored images dependably themselves. The ability to generate marketing materials in color allows startup ventures to match the marketing capabilities of larger, well-established competitors.
One negative aspect of modern color printing relates to the generally steep cost of color printing supplies. Today, re-stocking ink cartridges and toner represents a significant recurring business expense. Both ink and high quality toner products have escalated in price during recent decades. Many businesses seek ways to manage the use of printing technology in order to optimize these resources.
Color Printers
Today, numerous companies build color-printing equipment. For example, one of the leaders in the color-printing field began manufacturing printers in 1991. Lexmark maintains its U.S. corporate headquarters in Lexington, Kentucky. The manufacturing company produces lines of printing equipment (and supplies) for both small and large enterprises. Its powerful laser printers generate high quality images.
One striking aspect of the company's products relates to the clear, crisp colors of the images produced by its laser printers. It designs and markets both monochrome and color laser printing equipment, including lines of business multi-function printers. Due to rising ink prices, laser color printers often represent a more cost-effective option for businesses than ink jet printers.
The Importance of Toners
Ink (and toner) quality impact color copies significantly. For example, Lexmark markets printing cartridges specifically designed for its products. It utilizes Unison™ Toner to help achieve precise color copies.
Specially formulated to reduce friction, a toner assists the laser printing process. It applies to a printing surface to create a fixed image. Unlike some ink-jet printed images, laser printed color images remain crisp and smudge-resistant.