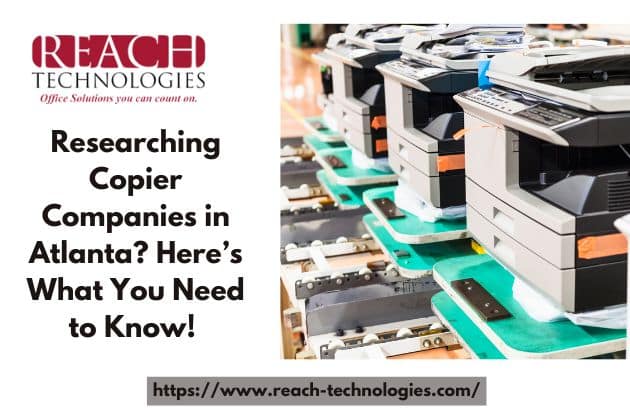 If you are looking to purchase a copier or get a leasing agreement for one in the Atlanta area, you have several options. Before you make your selection, there are key factors to consider when comparing copier companies so that you make the best decision for your business. Let's take a closer look at what to keep in mind as you shop around.
Cost of Equipment and Service
The cost of the equipment is typically the first thing that comes to mind when researching copiers; however, costs should include not just the machine but also service and maintenance fees. It is important to understand the total cost of ownership (TCO) so that you can compare apples to apples when making your decision. Some companies may offer lower equipment prices but higher maintenance fees. Look closely at all of these costs as they add up quickly over time. Also keep an eye out for additional costs such as delivery, installation, and disposal fees if applicable.
Services Offered
When comparing copier companies in Atlanta, consider what services each one offers. Does the company provide maintenance and repair services? Are they able to deliver toner or other supplies when needed? Do they offer leasing options or rental agreements? Understanding what services each company has available can help you make an informed decision about which one is right for you.
Quality of Service
When looking at copier companies, it is essential to research their customer service reputation. Check online reviews and see what other customers have said about their experience with customer support and technical assistance after their purchase or lease agreement was made. Ask friends or colleagues who have purchased a copier recently what their experience was like with the company they chose—were there any issues with responsiveness or billing? The more information you have about customer service before signing anything, the better informed your decision will be.
Lease Agreement Terms
If opting for a lease agreement on a copier rather than purchasing one outright, make sure that you read through all terms carefully before signing on the dotted line. Are there any penalties associated with early termination? How much notice must be given if returning or exchanging equipment? Are there restrictions on supplies usage? Be sure that all questions are answered before committing to any contract so that you can avoid any surprises down the road.
Reviews and Testimonials
One of the best ways to get an idea of which company is right for you is by reading customer reviews and testimonials. This can give you an idea of how satisfied customers are with their machines and services. Look at customer reviews on third-party sites such as Google, Yelp, and Angie's List, as well as any reviews posted on the company's website.
Conclusion:
Comparing copier companies in Atlanta doesn't need to be complicated—just be sure that you consider all factors before selecting one over another! Make sure that whatever choice you make is backed by quality customer service as well as reasonable equipment and service fees based on your budget and needs; also ensure that all terms are explicitly outlined in your lease agreement should you choose to go down this path instead of purchasing outright. Doing this due diligence upfront will save money and headaches later on!