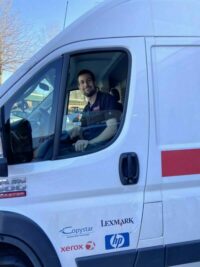 Reach Technologies opened its doors in 1983 specializing in computer sales and repairs. After 10 successful years Reach expanded their business to include printer supplies and service/repair. In March 2005, Kevin Boeckman purchased Reach Technologies and continued to expand the business by adding office supplies, specialty printing and copier equipment, supplies, and service.  Mr. Boeckman brings over 18 years' experience in the equipment, service, and supply industry.  Bottom line; our goal is to be the complete solutions partner for our customers.
Our service engineers have over 50 years of experience with computers, laser printers, copiers, and fax machines. We provide hardware for copiers, printers, multifunction devices, faxes, scanners, plotters, etc. that are designed to meet your specific need and volume. We also provide the complete line of HP laptops, desktops, and tablet devices. Managed Print Services are designed to allow you to manage your entire printer fleet through a simple and secure software program. By coupling supplies, service, and monitoring; MPS uses real-time data from each network printer device to track supply levels, page counts, and trouble alerts and give you a true cost for your printing environment. Our service department provides corporations and businesses with trained and professional onsite technicians for the printer, scanner, plotter, and fax machine repairs. We are an authorized service center for HP, Copystar/Kyocera, Lexmark, Brother, KIP, Oki, and Xerox.
Our trained IT professionals provide expert IT support with our Managed IT Service Programs. Whether acting as your IT department or supplementing your IT staff, our team will counsel, implement, and support your organization's computing needs allowing your staff to focus on your core business. We offer a variety of solutions and packages that will keep your data protected from cyber attacks, and provide business continuity planning, cloud services, and user support at a predictable cost. We also supply computing hardware and cloud services from quality manufacturing partners like Lenovo, Dell, and HP.
Our Business Solutions Specialists and Customer Service representative bring a high level of professionalism and a strong desire to be an asset to all of our customers by showing a demonstrable benefit of having Reach Technologies as your supplier for your technology equipment, business solutions, and office supplies. Reach Technologies has a full line of office supplies, MPS programs, and a copier line, and is greatly expanded the technology supplies offered. By providing all of our supplies online and by establishing exceptional customer relationships, Reach Technologies has positioned itself to compete against many of the big box stores without having to pay for the brick-and-mortar real estate and thereby passing those savings onto our customers.
Reach Technologies built its business foundation on the principles of integrity and honesty.  Our Purpose Statement reflects our belief by stating: "To conduct business with Integrity, Honesty, and a commitment to do what's right in every situation.  To acknowledge that God is the reason we are blessed and that He will always direct our path."Proverbs 3: 5-6 "Trust in the Lord with all your heart, and do not lean on your own understanding. In all your ways acknowledge him, and he will make straight your paths."
Corporate Office
5017 Bristol Industrial Way,
Buford, Georgia, 30518
800-537-0669

Washington, D.C. Area
2060 Barakat Ct.
Huntingtown, MD 20639
800-537-0669

Alabama Office
232 Moody Pkwy
Ste 7
Moody AL 35004
205-640-1618
WV, OH, PA Office
359 Township Rd 108A
Adena, OH 43901
800-537-0669

Florida Office
11222 St. Johns Industrial Parkway N
Suite 7
Jacksonville, FL 32246
800-537-0669

East TN, North GA Office
5555 Hixson Pike
Hixson, TN 37343
800-537-0669

Murfreesboro Office
910C Ridgely Road Murfreesboro, TN 37129
615-890-6498