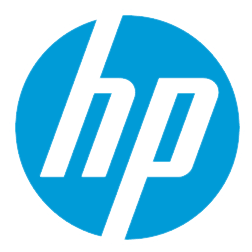 Whether you run a small business or a sizable corporation, you most likely chose Hewlett Packard printers because of their reliability and affordability. Moreover, IT professionals often select HP printers for their compatible software drivers in order to easily manage their printer fleets. When warranty service is needed for an HP printer, it is important to contact an Authorized Service Provider to ensure the proper service and repair.
At Reach Technologies, we are an Authorized Service Provider for Hewlett Packard and can provide warranty service on a wide range of HP printers. This includes:
HP DesignJet Printers/Plotters
HP LaserJet Printers
HP MFP Devices
HP Office Class PageWide Printers
Our highly-trained technicians are certified by the manufacturer to fully understand the intricacies of each printer. With access to the right documentation and equipped with the best tools to repair your HP printer, our team can service and repair your printers efficiently and effectively.
HP Printer Repair Contract Services
Most business owners understand that routine maintenance can keep their printers running smoothly and dependably. Fortunately, Reach Technologies provides important contract HP printer service to help local and national companies keep their printer fleets up and running reliably. Instead of pulling your staff away from their work priorities to attempt to fix a faulty printer, call one of our knowledgeable technicians to quickly fix your printer on-site.
We offer several contract options such as our maintenance only plan, our fixed-price plans, and our all-inclusive usage-based plans. By choosing a plan that fits your company's needs, you can budget for your printer maintenance service and help prevent unexpected and time-consuming repairs. Contact one of our Business Solutions Specialists today for your free printer analysis. Most of all, this analysis will help you decide on the best printer service plan for your business.
Additional Services
Along with our HP Warranty Service and our Contract Service plans, Reach Technologies also offers on-site repair service and depot service for HP printers. From installing new parts to renovating older HP equipment, we provide premium service at competitive prices.
From local companies to nationwide businesses, Reach Technologies is your one-stop service shop for any of your Hewlett Packard printer service needs or repairs. To schedule any repairs or parts replacements for HP printers, call us at 800-537-0669.
Your printer can be vital to your business success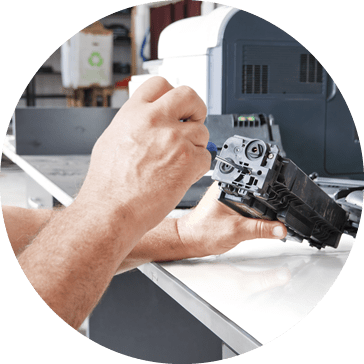 Printers remain an important element for today's businesses to function effectively, even in the digital age. Printouts of important documents remain as important as their digital backups, both for reference and storage. In addition, documents distributed to clients or to the public are so much more impressive if they are professional looking, from flyers to legal documents, designs, or artists' impressions of a project.
Every business, therefore, needs a reliable and efficient printer. Setbacks can be costly, frustrating, and time-consuming. Inferior quality printing can dent a company's image.
Hewlett Packard manufactures printers that meet and even exceed the standards for efficient operation. They are not only reliable but also can be operated intuitively and come equipped with compatible software drivers for almost all computer systems. As a result, many companies have found that HP printers give them the ability to manage their printers easily and effectively.
Keeping them running smoothly
Every successful business understands, too, that printers should be serviced on a regular basis to ensure that they continue to be reliable at all times and that their business operates at peak efficiency.
As an authorized service provider for HP, Reach Technologies provides warranty service on almost all Hewlett Packard printers. Our technicians have been trained on HP printers and are certified by the company.
They have access to the correct documents and the right tools to service any HP printers, including all models of HP LaserJet printers, HP DesignJet printers and plotters, HP Office Class PageWide Printers, and HP MFP devices.
Our service enables a business effectively to budget their printer maintenance needs. We offer fixed-price contracts and contracts that are based on all-inclusive use. Our services are priced competitively, cutting down necessary spending on new equipment. Parts and time are billed only when necessary.
When the unexpected happens
It is also true that even the most reliable of printers, being electro-mechanical, can suffer failure at times.
Should this occur, Reach Technologies partners with businesses, both locally and nationally, to get your printers up and running. Our service is efficient and reliable.
We will service your printer on-site. We include preventative and break-fix services so that your technology and other staff do not have to be involved in sorting out a device that is not functioning. Our services also include work at our depot.
Should you require HP printer service, call Reach Technologies today at 800-537-0669.