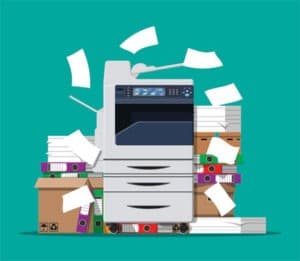 Do businesses enjoy advantages by leasing (or purchasing) new copier and printing equipment? This decision sometimes offers important benefits. A variety of factors may enter into a decision to search for cutting edge, modern office technology. Just consider six popular reasons to pursue this strategy:
One: Maintain Currency
Sometimes managers plan to exchange an old copier for a new model at regular intervals in order to help make the latest innovative equipment available for staff use. For example, companies which undertake extensive printing sometimes adopt this practice. The availability of labor-saving, convenient features in new equipment, coupled with reduced repair costs, may make this option very attractive for certain enterprises.
Two: Take Full Advantage of Sales
From time to time, appealing printer and copier sales prompt managers to invest in new office equipment. These types of promotions run the gamut from specials and discounts offered by manufacturers, to retail marketing campaigns. Smaller companies and home-based entrepreneurs with limited available funds for acquiring new company assets may discover benefits in purchasing or leasing new copier and printing equipment during a promotion.
Three: Obtain Specialized Printing Capabilities
Recently, some manufacturers have developed specialized office printing equipment. Businesses may choose to invest in specific models designed to perform certain tasks, such as printing theatrical stage scenery or creating labels for beverage containers. For example, Kyocera recently developed a small printer designed to print bar codes. The customers who obtain new printing tools for specialized tasks frequently retain their need to utilize document printing and copying equipment also.
Four: Acquire Differently Sized Printing Equipment
In some situations, managers decide to lease or purchase a new printer or copier in order to fit office equipment more comfortably into specific locations. Today, considerable variation sometimes exist in the size and portability of this type of business tool. Some customers with limited available square footage prefer to downsize the dimensions of copier equipment as a cost savings measure.
Five: Meet The Needs of an Expanding Work Force
Of course, business expansion remains another widely popular reason for businesses to actively search for new printing and copier equipment. When employees obtain ready access to this technology without having to wait for a machine to become available, productivity in the firm increases. Sometimes simply increasing the number of copiers in a company enhances efficiency.