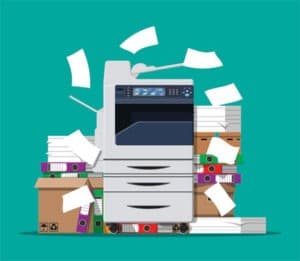 A copier is an essential item for any office. Since it plays such a large part in daily operations, it makes sense to take time to research your options before impulsively buying the first model you come across. Keep these ideas in mind when selecting your copier.
Understand the basics
Inkjet copiers are more expensive to run than laser copiers and aren't ideal for large offices. Black and white copiers are less expensive than color copiers and are recommended if you don't expect to make colored copies. A hybrid model is another option when looking at printer sales.
Individual devices or all-in-one
Many models of copiers also include scanning or faxing capabilities. It's cheaper to purchase one machine capable of everything you need to be done, but isn't feasible to use if you handle large volumes of documents as anyone with copier or kyocera printer sales would tell you. It's more economical to have individual machines to reduce wait times and congestion.
Estimate your copy volume
Dig into your copy records for the last few months to see how many copies you average per month. Multiply your average by 1.5 to give yourself some wiggle room and to ensure that you buy the right machine to meet your office needs.
Speed
The fastest model isn't always the best for your office needs. Small offices typically utilize machines that print from 11-20 pages per minute, but larger offices and organizations tend to need faster capabilities. Accounting or law firms with high volume should aim to purchase machines that can print anywhere from 50 to 80 pages per minute.
Finishing the job
Now the question comes with what you want to do with the document when printing is finished. Some models print all pages and put them in one tray, while others have multiple trays to expand capacity. Certain higher-end models can automatically hole punch or staple documents, which can save a lot of time when dealing with hundreds or thousands of pages on a daily basis.
Final considerations
A few other key points to evaluate before making your final purchase:

Can it print on both sides of the paper (duplex)?
Can it enlarge or reduce the document if necessary?
Does it support non-standard paper sizes if the need arises?
How long does the printer take to "warm up" before making the first copy?