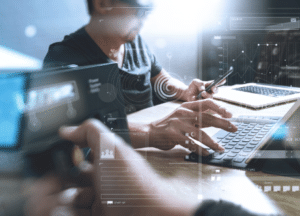 In the hit musical How to Succeed in Business Without Really Trying (1967), the diminutive but determined J. Pierrepont Finch (played by Robert Morse) launches his career in the world of Big Business by accepting an entry-level position in the company mail room. Today, audiences who enjoyed this cinematic classic during the 1960s might find the level of automation in modern corporate mail rooms startling! This brief blog post discusses mail room software and operational accountability issues.
Mailing Systems
Customers considering mail equipment sales, leasing, and purchasing in this era frequently find it useful to spend time evaluating software compatibility. For example, when leasing a digital postage meter, a company also typically obtains access to associated software products. These programs frequently perform a wide variety of useful functions, such as mail tracking, shipping label printing, and cost documentation.(1)
Check out Address Label Printer Atlanta
Additionally, reportedly many firms use standalone mailing software, too. In some situations, these program expedite bulk mailings.(1) It remains important for managers to ensure all their mail room software programs function compatibly within a single unified, streamlined mailing system. In large organizations, a mail room department which relies upon a variety of different software programs for various functions potentially encounters problems in generating accurate reports of mailings (and mailing expenses) unless software programs communicate with one another. A systems analysis of a company mail room frequently assists growing firms in obtaining better control over this vitally important department, in fact.
Why Streamlining Mail Room Software Matters
Why should businesses pay close attention to the compatibility of mail room software? Just consider four good reasons to streamline mail room operations and software programs:
Maintain Tighter Control Over Mail Receipt, Shipping, and Handling Operations;
Adhere to Mail Room Operational Budgets;
Enjoy More Efficient, Dependable Mail Room Support;
Enhance Security.
Managers need to ensure no one abuses their company's shipping department. If large enterprises struggle with poor mail room cost accountability, a much higher potential exists for unauthorized mailings.
Recently, CBS News reported postal authorities during 2017 and 2018 confiscated thousands of pounds of narcotics from the mail nationwide.(2) Mail rooms today need to maintain secure, yet also fully transparent, work environments. The use of streamlined software to promote better operational cost accountability helps further this goal!
Helpful Resources
https://www.businessnewsdaily.com/11243-mailing-equipment-smb-needs.html
https://wgme.com/news/marijuana-in-maine/cbs-13-investigates-mailing-marijuana