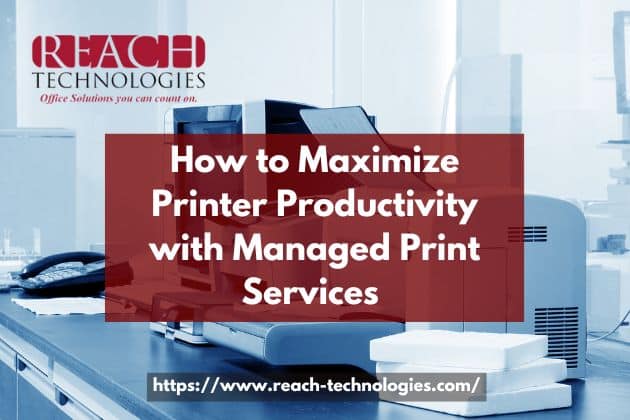 Managed print services (MPS) is a comprehensive and strategic approach to managing an organization's output devices and print environment. The goal of MPS is to optimize printer productivity while reducing the total cost of ownership (TCO) of the printers.
Many steps go into maximizing printer productivity with MPS, but here are three of the most important:
automating print-related tasks; and
establishing impactful print policies.
Keep reading to learn more about how you can take advantage of MPS to maximize printer productivity in your organization.
Streamlining the Print Environment 
One of the most effective ways to maximize printer productivity is to streamline the print environment. This can be accomplished by identifying and consolidating unnecessary printers, implementing pull printing (also known as secure printing), and minimizing paper usage.
Let's take a closer look at each of these strategies:
– Identifying and consolidating unnecessary printers: Many organizations have too many printers, which leads to inefficiencies and wasted resources. A good first step is to conduct a print audit to identify how many printers are needed. Once you've determined which printers can be consolidated or removed, you can implement a plan to do so.
– Implementing pull printing: Pull printing is a security measure that requires users to authenticate at the printer before their document will print. This helps to reduce waste and increases security by ensuring that only authorized users can access confidential documents.
– Minimizing paper usage: One of the best ways to maximize printer productivity is to reduce paper consumption. There are several ways to achieve this, such as duplex printing (printing on both sides of the page), using recycled paper, and setting default print settings to grayscale.
Automating Print-Related Tasks 
Another way to increase printer productivity is to automate print-related tasks. This can be done using software that tracks and manages user activity, documents, and devices. With this information, you can set up rules and alerts to automatically take action when certain conditions are met—for example, notifying a user when their color printing quota has been reached or automatically changing the default settings on a device when it's moved to a new location. Additionally, some MPS solutions offer mobile apps that let users control their printers from their smartphones or tablets.
Conclusion    
If you're looking for a way to save time and money on printer management, managed print services may be the perfect solution for you. MPS takes the hassle out of installation, maintenance, and repairs, and it can also help you optimize your print settings for increased productivity. To learn more about managed print services or to find a provider in your area, contact us today!