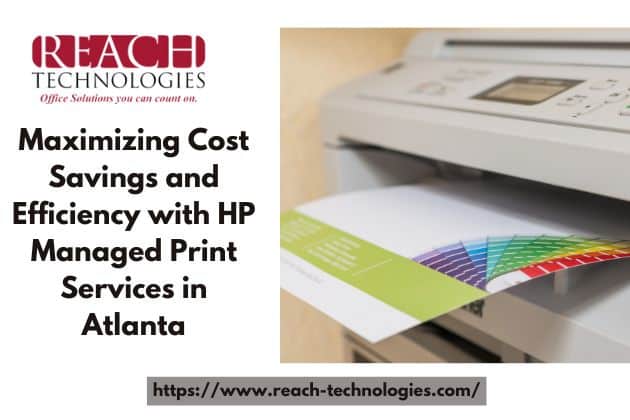 As a business owner, you already know the importance of reducing expenses and increasing efficiency whenever possible. HP Managed Print Services in Atlanta can help you do just that through cost-effective strategies tailored to fit your printing needs. We understand how crucial it is for you to increase productivity while minimizing overhead costs; therefore, we strive to provide affordable managed print solutions that allow business owners like yourself to eliminate waste and remain compliant with the latest technologies. Our easy-to-integrate services enable businesses to benefit from cutting-edge technologies without hefty upfront investments or licensing fees. In this blog post, we'll discuss how our managed print services offer maximum value toward cost savings and greater operational efficiency in any Atlanta business setting.
Overview of HP Managed Print Services in Atlanta
HP Managed Print Services (MPS) can help businesses in Atlanta achieve maximum cost savings and efficiency. HP MPS provides customized printing solutions to improve visibility, usability, and overall productivity. HP implements a comprehensive set of measures such as intelligent hardware deployment and optimized output environment to support cost-effective printing processes. Quality hardware products combined with HP's advanced managed print software will enable businesses in Atlanta to manage their printing needs more effectively while enjoying great cost savings. HP MPS is the perfect printing solution for businesses looking to increase their productivity and optimize costs in the city of Atlanta.
Benefits of HP Managed Print Services for Cost Savings and Efficiency
Atlanta businesses can make the most of their resources, maximize cost savings and improve efficiency with HP Managed Print Services. This comprehensive service portfolio covers everything from printing hardware and software to supplies and document management capabilities. Business owners can save time and money by working with HP's industry-leading products while utilizing pre-existing investments, improving workflow throughout all departments. By streamlining processes related to printing, Atlanta companies can focus their energies on achieving their organizational visions. As an added bonus, experienced technical teams are available to handle projects remotely, saving businesses time and labor costs while eliminating a drain on corporate resources. In short, when it comes to cost savings and efficiency, HP Managed Print Services is the way to go for Atlanta business owners.
Identifying Your Needs with an HP Managed Print Services Assessment
When it comes to managing and maintaining your business's printing needs, a thorough assessment of what and where you require output devices can identify areas that may benefit from integrating HP Managed Print Services. Utilizing such an assessment can help your Atlanta-based business maximize cost savings and efficiency, so you can direct your resources in ways that bring the most return on investment. The experts at HP are making sure that businesses don't overpay for their necessary printing services and providing them with the means to stay productive with their outputs. By leveraging the power of HP solutions, businesses can rest assured that they're getting reliable equipment tailored specifically to them.
Strengthening Your Security Posture with HP Managed Print Services
Securing your business information is crucial for protecting sensitive data, reducing business liabilities, and future-proofing technology investments. HP Managed Print Services (MPS) ranges from strategic IT assessment to outsourcing which helps organizations strengthen their security posture in the Atlanta area. HP MPS provides risk management services that offer proactive monitoring to help detect anomalous behavior, secure print queues, and scan and track incoming documents with confidential information. By incorporating data-driven strategies within digital workflow processes, HP MPS helps businesses reduce their operating costs while increasing security protection and improving efficiency. With HP MPS protection, you'll be able to acquire an increase in savings and streamlined workflows while also reducing security threats to your business.
Improving Document Management Through Automation with HP Managed Print Services 
An efficient and secure document management system is crucial to keeping any business running smoothly. HP Managed Print Services in Atlanta improve how businesses handle their documents, enabling them to break away from manual processes that are time-consuming and often prone to inaccuracies. Automation ensures the secure transfer of confidential information without the need for excessive time or money investments, allowing businesses to focus on having a strong workflow. With HP Managed Print Services, Atlanta companies can take advantage of cost savings and improved productivity.
Optimizing Your Printing Environment with Professional Installation and Maintenance Services from HP Managed Print Services
HP Managed Print Services Atlanta provides your business with the highest-quality installation and maintenance assistance to ensure that your printing environment runs at maximum efficiency. Our professional team uses a unique combination of expertise, insights, and cutting-edge technology to optimize your printing system for cost savings and enhanced productivity. With tailored solutions for Atlanta businesses, our team is equipped to customize your services so that you can experience an exceptional level of cost savings and streamlined processes. Through HP Managed Print Services, you will be able to experience true optimization of your printing environment.
All in all, the HP Managed Print Services in Atlanta provide businesses with a smart strategy for cost savings and optimal efficiency. By helping businesses identify their needs with an assessment, strengthen their security posture, improve document management through automation, as well as offering professional installation and maintenance services, companies are set to unlock cost-saving opportunities and improved efficiency. Implementing these strategies could also help businesses reduce complexity and streamline their operations – allowing them to spend their energy on what's most important: Growing the business. With all the advantages that HP Managed Print Services offer for boosting cost savings and efficiency, Atlanta businesses should consider looking into the various solutions this program provides.