When you're looking for a commercial printer that goes above and beyond, look no further than the range of KIP plotter printer sales Atlanta has to offer right here with us. KIP plotter printers are well-known for their advanced features, especially their advanced chart drawing capabilities. These machines are surprisingly affordable considering their extensive offerings. The software makes it easy to plot everything you need with an intuitive interface.
Our Local Office & Technicians Serve
The Entire Metro-Atlanta Area
5017 Bristol Industrial Way
Buford, Georgia, 30518
Toll-Free: 800-537-0669
Our goal is to be the complete solutions
partner for our customers.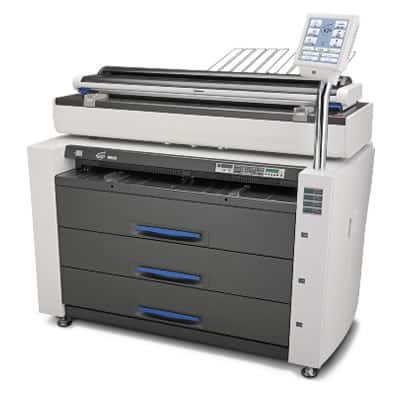 We are officially authorized to sell KIP plotters and include warranties and service contracts to back up our sales. Our technicians have the experience and knowledge to sell and service KIP plotters with training directly from KIP. We can also optimize your machine to ensure the settings are suited to your specific needs for the best user experience.
Our company offers service and warranties for the following KIP models:
KIP 5000 Multifunction Printers
KIP 3000 Auto Stackers
KIP C7800 Color Wide Format Printers
KIP 3000 MFP Plotters and Scanners
We offer plenty of advice and support for all equipment that we sell.
Warranties and Service
We stand behind all of the KIP equipment that we sell. Electrical components can still malfunction and need to be replaced or repaired after being used for a while. We work with other companies in the country to provide service, support, and warranties to anyone who purchases a KIP plotter from us. Our warranties include service calls for when you're on the job or the repair of defective and broken equipment at our facility.
We offer many different plans to support your needs. The different plans are designed to support your budget regardless of how large or small it is for printer maintenance and repair.
We can evaluate your needs and offer you one of the following plans that best satisfy your unique requirements:
Per-call maintenance packages
Pre-established cost arrangements
Routine upkeep only
Cost of Parts and Labor of KIP Plotter Printer
We offer support for KIP plotters at our repair shop and, if it is more convenient for you, right at your job site. It's much more economical to repair equipment when it breaks instead of outright replacing it.
Contact us at 800-537-0669 or solutions@reach-technologies.com so our team can guide you on the best KIP Plotter sales Atlanta has to offer./p>